To celebrate AJE ATHLETICA's runway debut, IKKARI partnered as the official skincare sponsor against the iconic backdrop of The Sydney Opera House.
The synergy between the new age of activewear and our high-performance skincare offering showcases life on the move, as well as the fusion and philosophy of our founder Adrian Norris, whose vision of holistic health is based on the harmonious synchronicity of your mind, body and spirit as one.
In collaboration with lauded Makeup Artist and Skin Therapist Isabella Schimid, we curated a skincare ritual conceptualising a complexion to go beyond the bounds of the runway: healthy, luminous skin. 
"I'm excited to be working with IKKARI, I love the way this ritual creates a beautiful, dewy base. You can use them everyday to give an immediate lift to your complexion, they do all of the heavy lifting, to celebrate your best skin," says Schimid.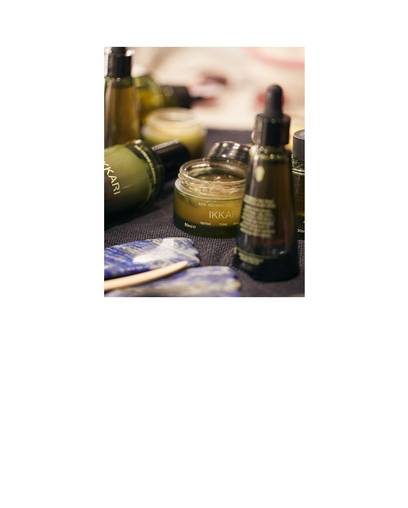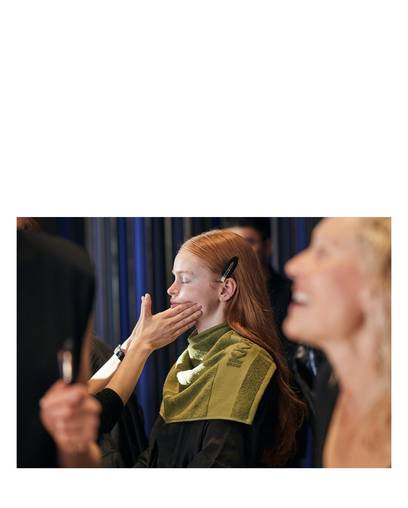 A curated ritual for healthy skin, a protocol you can do yourself at home.
DOUBLE
CLEANSE


The ultimate ritual to purify and prepare skin.

"First, the Clear Skin Cleansing Oil, it's a really soft, silky oil that gently melts away all of the impurities in the skin and gets the complexion looking luminous."

 

–

 

CLEAR SKIN CLEANSING OIL 
HERO INGREDIENTS: Camellia, Chia Seed, Hemp Seed 

Our oil-attracts-oil cleansing method gently melts away impurities and excess sebum to deeply purify without stripping your skin.

 

"The second cleanse is with The Cream Cleanser, a soothing, milky cream loaded with essential nutrients to calm skin."

 

 

THE CREAM CLEANSER
HERO INGREDIENTS: Rosehip, Rosemary, Chia Seed

Our soothing milky cleanser is loaded with essential nutrients and lipids to calm redness and soothe skin post-double cleansing.  

 

 

 
TREAT


Actives to brighten, hydrate and boost clarity.  
"After cleansing, I apply the enzyme mask - a great anti-congestion product, that's so good for evening-out skin tone. The ingredients brighten the skin."
–
SKIN REFINING ENZYME MASK
HERO INGREDIENTS: Pineapple, Lactic Acid, Papaya Extract 
Target congestion and uneven skin tone through the combination of alpha and beta hydroxy acids and potent skin-brightening plant extracts.
"Then, I mist this refreshing facial spray, it's anti-inflammatory ingredients help calm skin and reduce the appearance of pores."
PURIFYING MIST TONER
HERO INGREDIENTS: Niacinamide, Marshmallow Root, Green Tea
A refreshing facial mist to purify, tone and boost hydration levels. Rich in antioxidants and anti-inflammatory ingredients to minimise the appearance of pores and maximise moisture.
"Next, I massage in Restorative Face Oil, working it into skin to bring blood to the surface so it looks plump, healthy and glowy."
RESTORATIVE FACE OIL
HERO INGREDIENTS: Prickly Pear, Bakuchiol, Kakadu Plum
Our deeply nourishing proprietary blend of Bakuchiol, a natural alternative to retinol, and Kakadu Plum boosts collagen production and brightens. 
ILLUMINATE


Serums, your solution-focused skincare.

 "As a skin therapist, I always prep the skin before I apply makeup, and I love how IKKARI performs - naturally derived, with active ingredients." 

 

–

 

THE SOLUTION SERUM
HERO INGREDIENTS: Aloe Vera 

Our pure cold liquid extracted Aloe Vera is rich in antioxidants and vitamins A, C and E to help promote clarity by calming and reducing redness and breakouts.

 

 

ILLUMINATING SERUM
HERO INGREDIENTS: Kakadu Plum, Pineapple, Liquorice Root 

A radiance-boosting elixir including Kakadu Plum, the world's highest concentration of Vitamin C, to brighten dark spots and promote collagen, for a more radiant complexion.





 

 
NOURISH
For hydrated, dewy skin.
"The next step is Overnight Renewal Cream. Don't be fooled, it's not just a night cream, this is a beautiful moisturiser that can be used both night and day. Its active ingredients are a natural retinol and Vitamin C. It locks moisture into skin and is really, really hydrating."
–
OVERNIGHT RENEWAL CREAM
HERO INGREDIENTS: Bakuchiol
More than just a moisturiser, formulated with nature's retinol to reduce the appearance of fine lines and refine skin texture and tone. Ideal for both day and night to deeply nourish.
SKIN SAVIOUR BALM
HERO INGREDIENTS: Olive, Camellia Seed, Rosehip Oil
Our multi-tasking, skin-saving balm. Massage onto skin, lips, cuticles or wherever needed to soothe, nourish or illuminate.
"The last step is Skin Saviour Balm, applied onto lips, eyelids, cheekbones, or anywhere you want a nice bit of nourishment and illumination on the skin. As a special treat for this AJE ATHLETICA show, I finished by misting Purifying Mist Toner just before the models walked the runway, lightly spritzing over their face and upper body to evoke a post-workout glow."